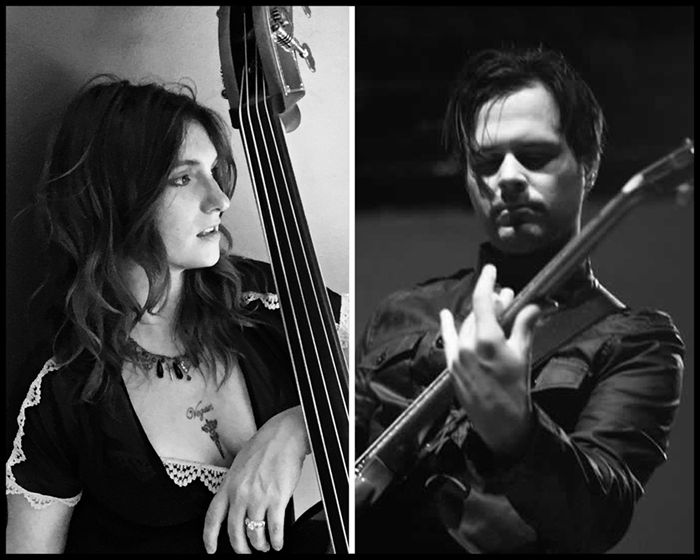 Blue Hippopotamus is a three piece alternative rock dream-pop band. The vocals are lounge singer chanteuse style by Caitlin Jaene. Her voice is often compared to k.d. lang and Karen Carpenter. Caitlin is also the bassist of the band, trained classically on the upright bass. Chris Mercer creates an ocean of sound with his guitar and pedals taking the band into the shoe-gazer rock sound. Friends refer to his pedal collection as "pedal-topia". Everything dances on the beats made by drummers Rob Durham, Rich Breazzano, or John Mousseau depending on the show. Their sound has been described as Portishead and Garbage meets The Police, with a little Sigur Ros.


     Blue Hippopotamus was started in 2005 by Caitlin Jaene and Rob Durham who played small clubs in NYC. Now based near Philadelphia, the band has traveled far playing clubs in LA, Chicago, Boston, Seattle, Portland, Detroit, Buffalo and North Carolina.


     When Caitlin and Rob started the band they wanted to use the name of an animal with a big bottom like Caitlin's upright bass. When they learned about the ancient Egyptian blue hippopotamus artifact used to protect the dead on their way to the afterlife, they found their name. Caitlin became vegan soon after starting the band so now the name is also fitting because the hippopotamus is one of the fiercest vegans in the animal kingdom.


     Blue Hippopotamus is an animal-rights supporting band. Caitlin, Chris and Rob are vegan and Rich is vegetarian. Anyone interested in literature on animal kindness can find it for free at their merch table at every show. The band often plays rescue and veg events. More info can be found on the "B Hipp to Animals" page of their website. 
www.BlueHippoMusic.com/b_hipp_to_animals
     Blue Hippopotamus has a large repertoire of original music as a full band and Caitlin also likes to cover jazz standards and popular songs solo on her upright bass. Blue Hippopotamus CDs and other merch can be purchased at 
www.BlueHippoMusic.com
 and you can find more songs on Caitlin's solo website
www.CaitlinJaene.com
     Caitlin gets a lot of joy from learning about energy and tapping into her clairvoyance. Cindy Eyler helps her grow and open her energy more and more every day to channel inspiration and light. Blue Hippopotamus is very honored to be featured as the theme music for Cindy Eyler's life-changing eCourse "Manifesting Breakthroughs Level 2: Self-Mastery & Manifesting"! 
www.CindyEyler.com
     For the newest Blue Hippopotamus album, "Crazy Love", the band has collaborated with Caitlin's childhood friend, Laura Petersen, for a sensual visual experience of photos that match the mood of the intimate collection of songs. The CD contains a 16 page booklet featuring photos of Laura taken by the talented Nate Griffin (
@laurapetersen_lp
, 
www.NateGriffinPhoto.com
). Caitlin and Laura have been close friends since elementary school in the 80s when they used to do talent shows together (yes, there is embarrassing video of this). As young as they can remember, Caitlin wanted to be a singer and Laura wanted to be a model. Now that they are both moms, they are making it a priority to remember that women can still be serious about their art during motherhood. They are two women supporting and encouraging each other's creativity. They do not need to be 20 or childless to be beautiful, express their sexuality and celebrate who they are. 
Thank you for taking the time to check out the music of Blue Hippopotamus. Enjoy! 
Copyright 2005-2015 Blue Hippopotamus /Publishing BluHippSongs(BMI)
_________________________________________________________________________________________________
_________________________________________________________________________________________________
_________________________________________________________________________________________________
Music Alley Radio WERA 96.7FM Arlington, VA
Carol Campbell & Marco Delmar
April 13, 2017
_________________________________________________________________________________________________
Guitar Player Magazine Brazil
Ciro Visconti, Photo by Derek Brad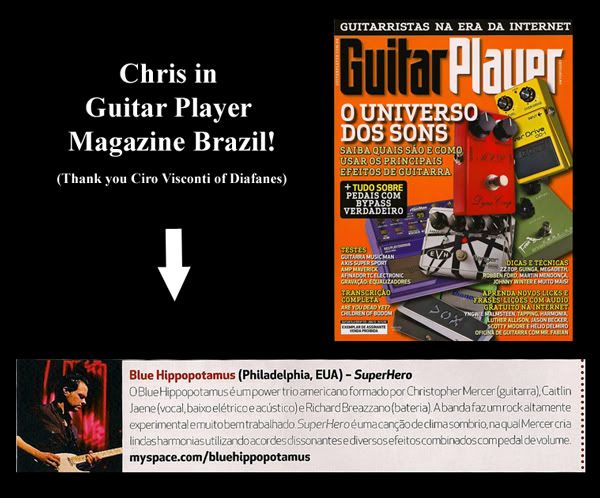 _________________________________________________________________________________________________
Pottstown Mercury - photo by John L. Langsford III
July 14, 2011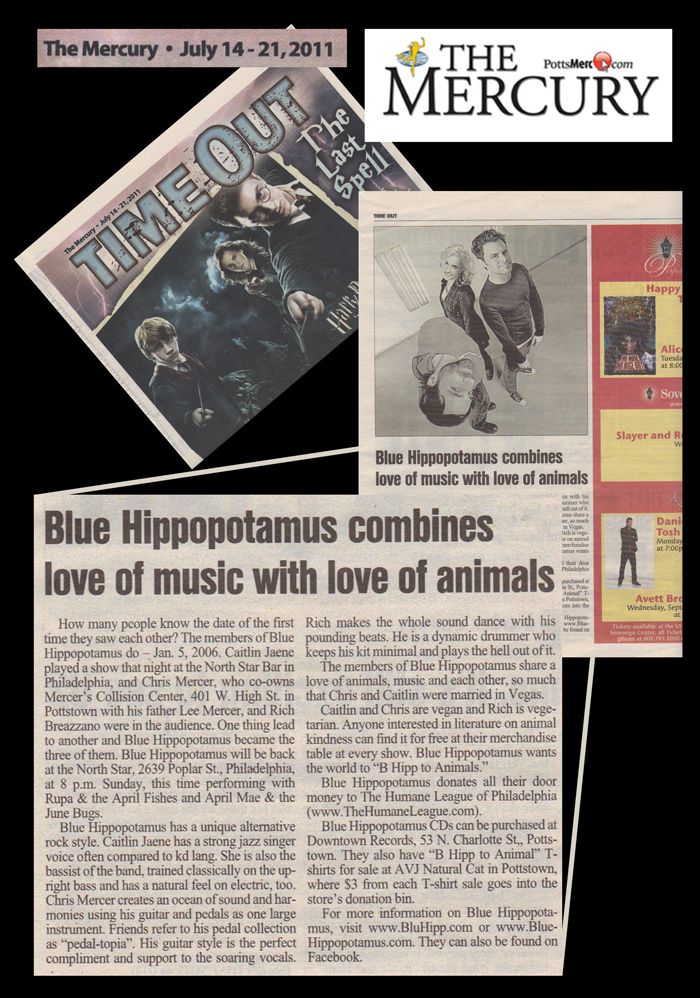 _________________________________________________________________________________________________
Inspivia
Written by Heather Shafer, Photo by Derek Brad
July 16, 2009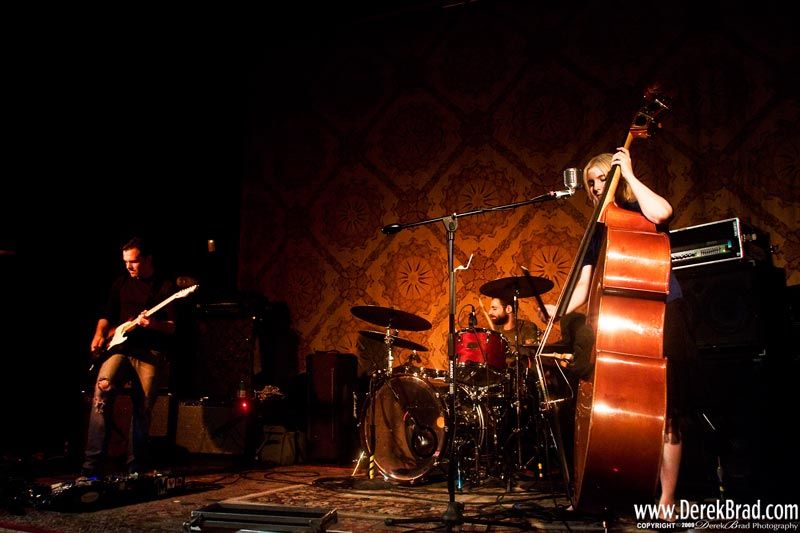 At first listening to the evocative sounds of Blue Hippopotamus seem to transcend you into a world of mystery and desire. The haunting lyrics combined with Caitlin Jaene's sultry voice could warm your skin on the coldest of days. Their sound is surprisingly imaginative and fresh in a time where it's hard to decipher one band from the next. After a few transitions with band members, Blue Hippo comes back with a renewed intensity on their latest EP "Volume 2". The title track, Superhero's lyrics purr a scenario of love and hurt that reward deeper analysis. This up and coming band has an almost indescribable ethereal feel that conjures up memories of passion we aren't quite ready to forget. Written by Heather Shafer Check out more photos from this show: http://derekbradphoto.blogspot.com/2009/07/blue-hippopotomus.html